Water Treatment Plant Manufacturers/Suppliers/Exporters in Pune
Perfectplus Engineering India Pvt. Ltd. is a leading manufacturers, suppliers, exporters of water treatment plants in Pune. We have been providing the best quality products to their customers since 2014.
The water treatment plant has been recognized as one of the best companies in the field of engineering and manufacturing. Our water treatment plant has a wide range of variety, affordable prices, and latest designs have made them popular among their clients.
The water treatment plant manufacturers offer the latest designs to their customers with high-quality construction materials to ensure long-lasting durability and long-term performance. Our water treatment plant supplies reliable quality products to domestic and international customers at affordable prices with a wide range of variety.
What is a Water Treatment Plant?
The water treatment plant is a facility that processes water to make it suitable for human consumption. It is usually located near a body of water and often has the capacity to process large amounts of wastewater.
Water treatment plants are generally classified into two types: those that primarily remove solids from the wastewater, and those that primarily remove bacteria. The former type is known as a primary treatment plant, while the latter type is known as a secondary treatment plant.
The primary function of any water treatment facility is to reduce the level of chemical oxygen demand (COD) in treated wastewater before releasing it into the environment or into a receiving body of water.
Features-
A water treatment plant has the following features:
A raw water intake tower with screens to remove large solids and debris from incoming water.
A raw water outlet tower with screens to remove small solids and debris from outgoing water.
Raw influent (raw) enters the first stage of filtration where it is filtered through granular media such as sand, gravel, or diatomaceous earth. The media traps particles and retains them in the filter bag until they are removed by an airlift that sucks them up through an air vent in the top of the filter
Components:
A typical Water Treatment Plant consists of these major components:
Storage tanks
Filters
Pumps
Chemical mixing tanks (CMC)
Boilers
Turbines
The benefits of using a water treatment plant include:
It reduces the number of chemicals and pollutants in the source water by removing suspended solids, bacteria, viruses, and protozoa.
It prevents corrosion from pipes and fittings due to high mineral content in the source water.
It saves energy costs due to its ability to process large volumes of raw water.
It is also used as a means of wastewater management by removing the liquid waste from the sewage system.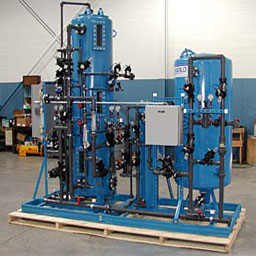 A demineralizer is a system, which uses ion exchange chemical process to remove dissolved ionic compounds (salts) from water. It is also known as Deionized Water System, Demineralizer or DM Plant.
| | |
| --- | --- |
| Flow rates | Up to 50m3/h or more |
| Configuration | Dual Bed or Mixed Bed |
| Vessel | FRP / MS / MSRL |
| Vessel size | 18" to 48" in diameter |
| Brand | Perfectplus Engineering India Pvt. Ltd. |
| Operation | Manual or Fully and semi-automatic |
| Pipe Size | 1'' to 3'' |